Kangaroo Island
After our brief visit of McLaren Vale we headed south to catch the ferry to Kangaroo Island. At approximately 100-miles long KI (as it is known locally) is Australia's third largest island, and is famed for its wildlife. Our accommodation for four nights was at the Kangaroo Island Lodge, American River.
<![if !vml]>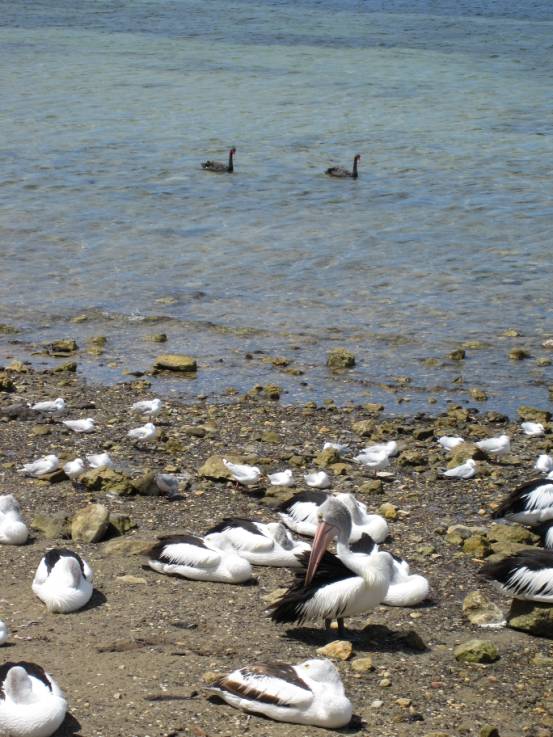 <![endif]>
Immediately outside the lodge there are resident populations of Pelican and Black Swan. In fact KI is the original home of the Black Swan!
<![if !vml]>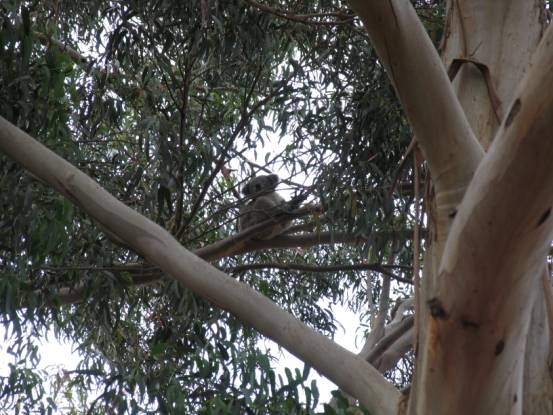 <![endif]>
KI is also home to Koala Bear.
<![if !vml]>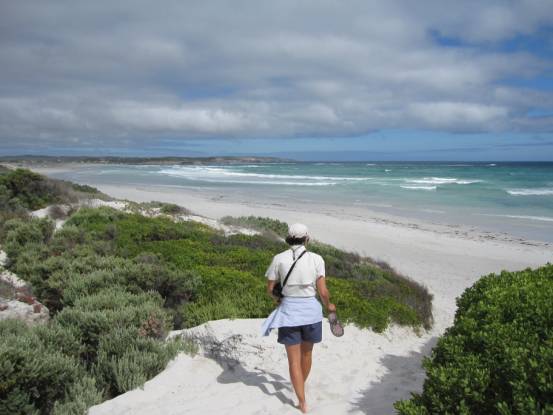 <![endif]>
KI has stunningly beautiful beaches: this is Seal Bay on the south coast approximately halfway along the island. We had the beach entirely to ourselves, and were treated to a memorable wildlife experience…
<![if !vml]>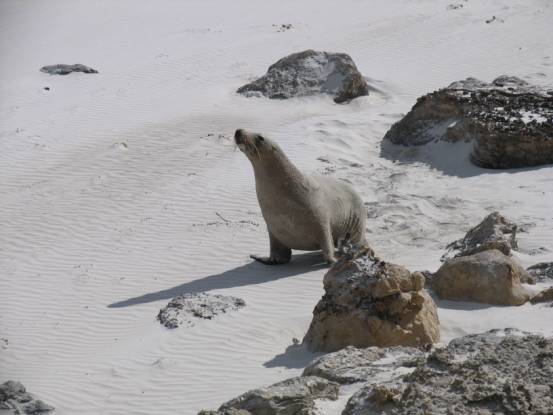 <![endif]>
As we walked along the beach we noticed a Sea Lion coming ashore. Now sea lions are quite agile, and in a straight race over sand the sea lion would beat a human. Discretion resulted in Julie and I climbing the rocky outcrop adjacent to the shore, I was guessing that sea lions are not good climbers. For its part the sea lion was not showing aggression but appeared simply curious. After a few sniffs of the air it rolled over in the sand and (we think) fell asleep!
<![if !vml]>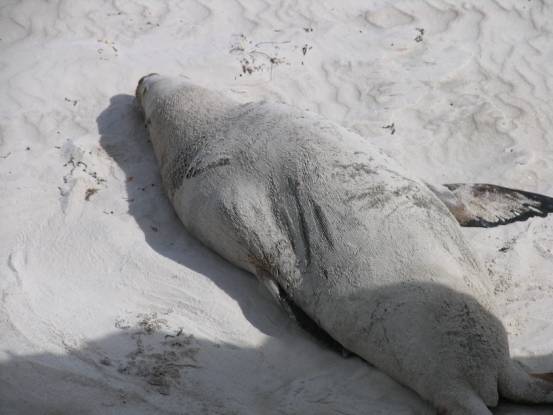 <![endif]>
We left him or her in peace and continued our walk…
<![if !vml]>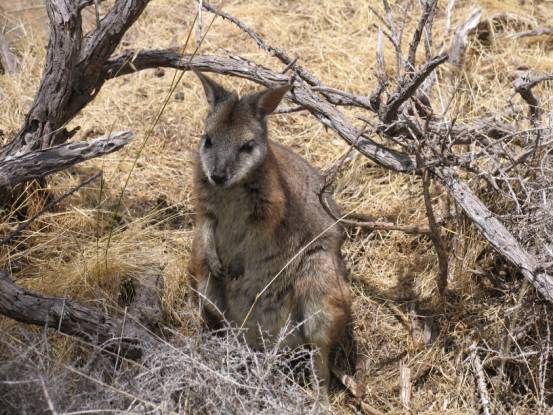 <![endif]>
KI is also home for large numbers of Tammar Wallaby, and they too appeared more curious of us than frightened.
<![if !vml]>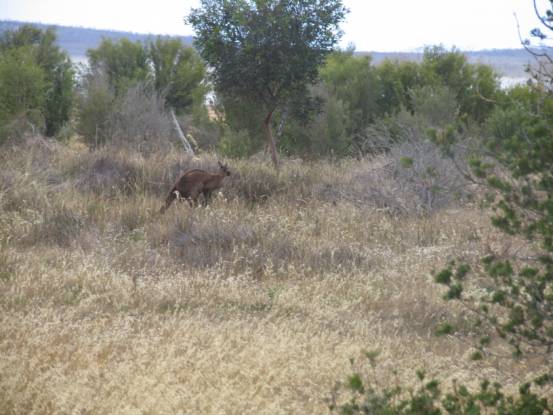 <![endif]>
The kangaroo that KI is named after is this one: a form of Grey Kangaroo found nowhere else in Australia. The mainland grey is a slightly smaller relative of the KI subspecies, and became isolated when rising sea levels created Kangaroo Island.
| | |
| --- | --- |
| <![if !vml]><![endif]> | <![if !vml]><![endif]> |
KI has vast numbers of ants – and very aggressive ants at that! The species above, which we haven't been able to identify, would turn aggressively towards you as you approached. It is however a very bonny critter, and has a mirror surface on its rear-end: look closely and you can see my reflection in the right-hand photo.
| | |
| --- | --- |
| <![if !vml]><![endif]> | <![if !vml]><![endif]> |
As mentioned earlier, KI has many beautiful beaches: this one is at the end of a walk called Rocky River, in the Flinders Chase National Park. And yet again we had it entirely to ourselves!
<![if !vml]>

<![endif]>
This photo is from a walk that takes you to Murray Lagoon.
| | |
| --- | --- |
| <![if !vml]><![endif]> | <![if !vml]><![endif]> |
The insects here were atrocious! The lagoon can be seen here and, looking like snow, are the white sand dunes of Cape Gantheaume Conservation Park.
<![if !vml]>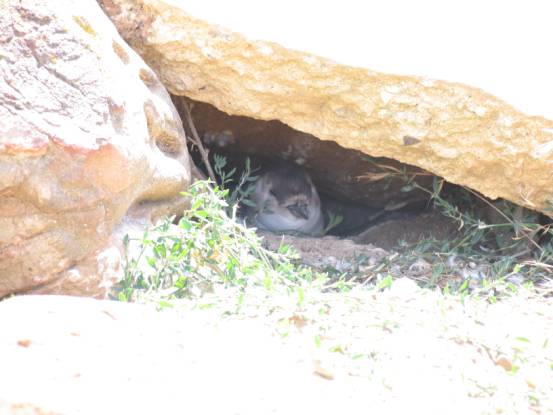 <![endif]>
Kingscote is the administrative capital of KI, and it is here that you can see Little Penguin. After their chicks have fledged, the adult penguins moult, and during this time are not able to go to sea. It's good time to see these birds: you know exactly where they will be!
<![if !vml]>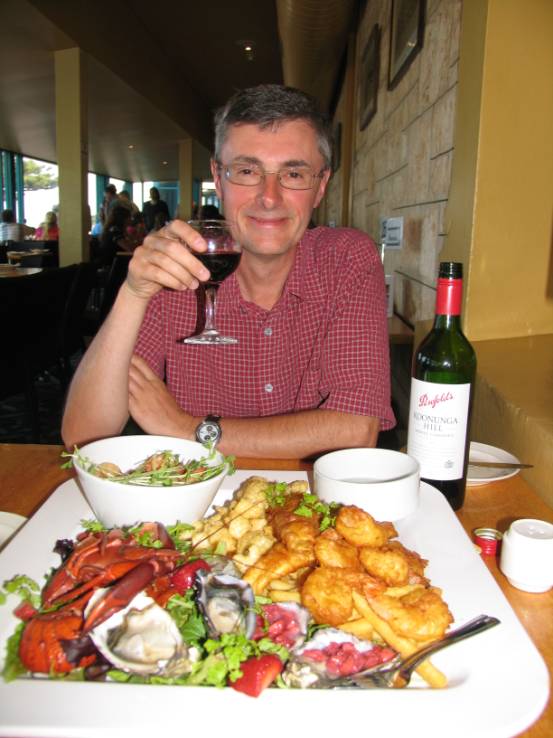 <![endif]>
The best eating we found on the island is at Ozone Seafront Hotel, Kingscote. This mixed seafood platter was delicious!
We found that three full days was sufficient to 'do' the island: the attractions are all to do with the natural environment – which KI has in abundance!