My Dad's War
<![if !vml]><![endif]>

Eden Thompson (Private 1717228)

from 1-1-1941 (14th Coast Artillery Group Bexhill) became 552 Coast Regiment from June 1941

from 23-11-1943 (Royal Artillery Coast 13th Medium Regiment)

from 15-12-43 (Essex Regiment 12th Corps Infantry)

from 29-6-1944 (Durham Light Infantry 11th Battalion 'C' Company)

from 28-8-1944 (Dorset Regiment 1st Battalion)
<![if !vml]><![endif]>

In dad's small collection of photographs is one small 8 by 6 cm battered photo. Taken in the 1940s, it shows a man and two women, arms linked, walking, jauntily, along a street, the two women smiling at the unknown photographer, a style of photography known as candid street photography pioneered by the likes of Henri Cartier-Bresson. This particular photographer remains a mystery, what is almost certain, it was taken in France, possibly Paris, as written on the back in blue fountain pen are the words:- "a nos amis les allies" (To our friends the allies)

How dad came to have this photograph, who gave it to him, will remain a mystery.
Eden Thompson, born 10th January 1920, was enlisted into the army at Oswestry on the 17th October 1940, "for the duration of the emergency", Army Number 1717228. On the 1st January 1941 he was posted to the 14th Coast Artillery Group Bexhill, which became the 552 Coast Regiment from June 1941.
<![if !vml]>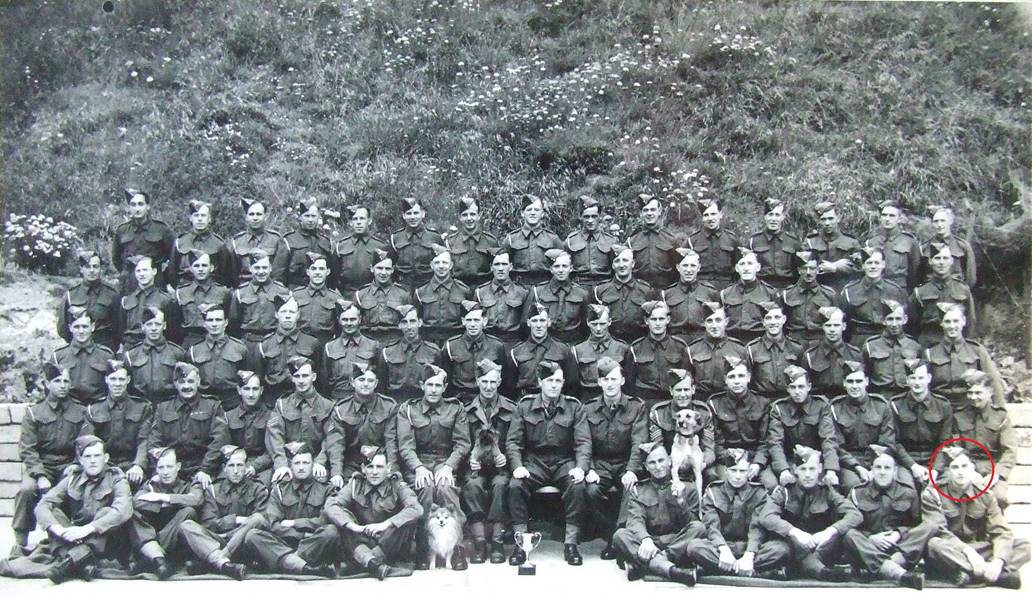 <![endif]>
From 23rd November 1943, he joined the Royal Artillery Coast 13th Medium Regiment.
From the 15th December 1943, he joined the Essex Regiment 12th Corps Infantry, and they were posted abroad on the Expeditionary Force North-West Europe on 23rd June 1944.
On the 29th June 1944, he was transferred to the 11th Battalion Durham Light Infantry. A diary entry confirms this:-
<![if !vml]>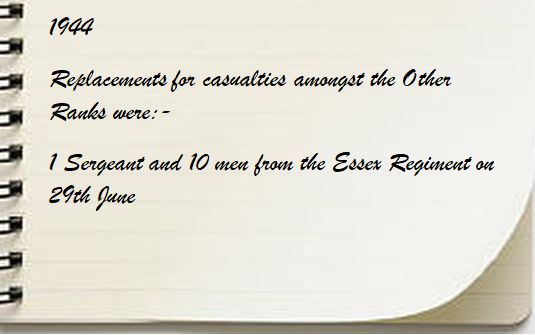 <![endif]>
These and other replacements from other regiments were required during Operation Epsom and after the Battle of Rauray, a village in Normandy, where the Durham Light Infantry had suffered heavy losses, and to hold Rauray
1st July 1944: A diary entry says, Fierce fighting in and around Rauray eventually "put the enemy to flight"..
2nd July 1944 (Diary entry)
<![if !vml]>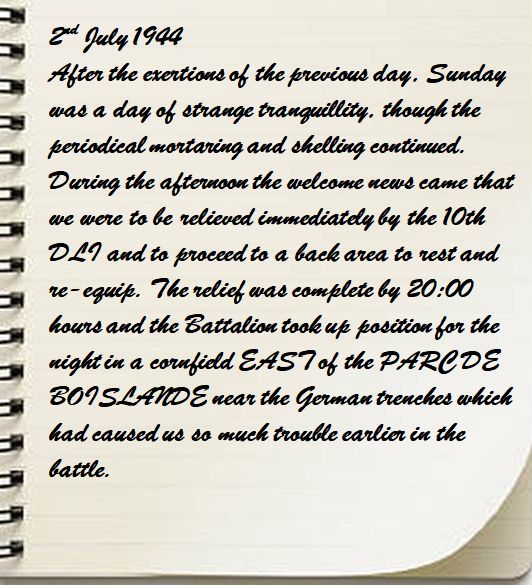 <![endif]>
3rd - 31st July 1944: The Battalion then moved to Ducy-St-Marguerite, Juvigny, and then Demouville.
On the 19th August 1944 the Battalion, while resting at an area South of Vimont, received news that they were to be disbanded owing to a shortage of reinforcements. Split into four Company groups they were transferred to other Battalions. Dad was put into 'C' Company.
26th August 1944 Thury-Harcourt, a former commune in the Calvados department of the Normandy region, north-west France, a diary entry says:
<![if !vml]>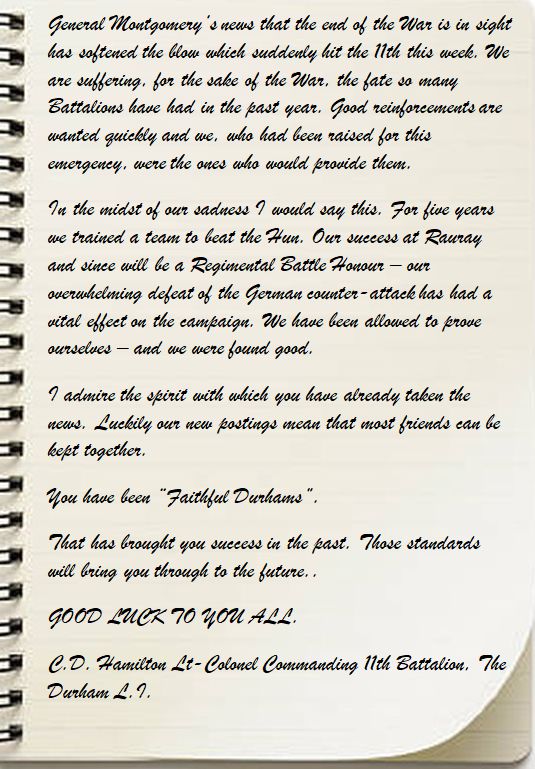 <![endif]>
26th August 1944 Thury-Harcourt (Diary entry)
<![if !vml]>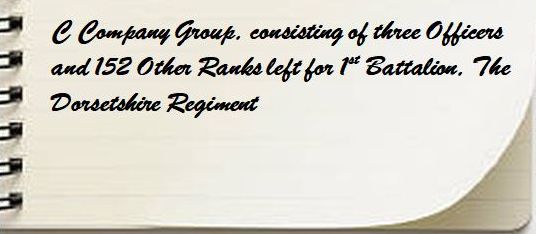 <![endif]>
28th August 1944, 1st Battalion, The Dorsetshire Regiment
"In September 1944 the 1st Dorsets supported the Guards Armoured Division in their initial advance to relieve the Allied airborne troops who had captured the bridges on the way to Arnhem. After the strategic failure of the operation they moved to the island - the low-lying polderland between Arnhem and Nijmegen - to defend the area from German recapture. Such were their casualties in two months fierce fighting here - and the casualties throughout their Division - that in December 1944 they were returned to the UK, where they became a training unit. Many officers and men, however, transferred to the 4th and 5th Battalions who were also serving in North West Europe.
Their long war cost the 1st Dorsets 327 killed and 1,029 wounded. They had won 81 decorations, 12 new battle honours for the Regiment and a reputation as a fighting battalion that was second to none"..
Dad was one of those wounded during Operation Market Garden. Like a lot of ex servicemen he was reluctant to speak of his time in the war, I do however remember him telling me he drove a Bren-Gun carrier and of seeing the sky filled with the airplanes and gliders flying overhead on there way to Arnhem. And of his wound? The soldier, comrade, next to him was hit, as dad went to assist and call for a medic, he felt his arm 'get knocked back', thinking nothing of it in the heat of battle, on the arrival of the medic he was told 'you better come as well', he only then discovered a bullet had gone through his left hand. He was discharged 5th March 1945 Military Conduct: Exemplary.
| | |
| --- | --- |
| <![if !vml]><![endif]> | <![if !vml]><![endif]> |
And so that little battered photograph. He could have been given it as his Battalions liberated villages in France. Or he could have received it whilst in a field hospital on the retreat from Arnhem; Paris had been liberated on 25th August 1944.
<![if !vml]>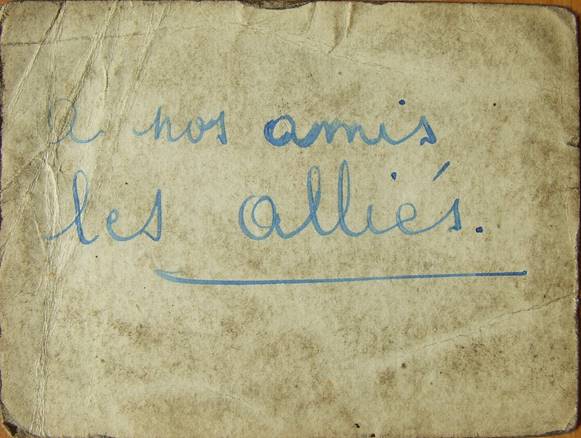 <![endif]>
"To Our Friends the Allies" remains a mystery
Dad died on 19th September 1984
War Records
Durham Light Infantry War Diaries: July 1944 and August 1944
The Keep Military Museum (Dorchester)