The Four Counties Ring Canal Boat Holiday
<![if !vml]>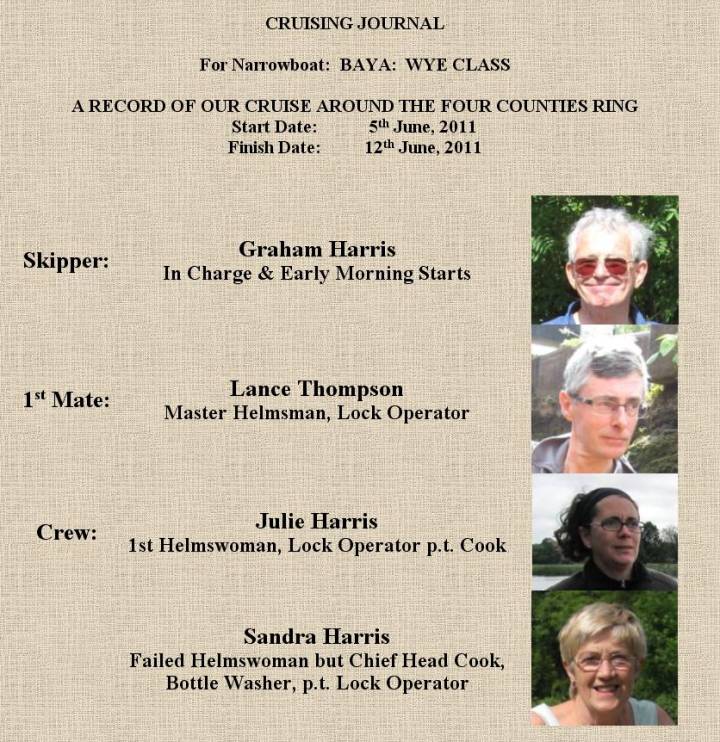 <![endif]>

View Four Counties Ring in a larger map
DAY 1
Sunday, 5th June, 2011
Weather:  Wet
Cast-off Time:  15.40 hrs
Diary
Set off in light rain from Gailey Wharf on the Staffordshire and Shropshire Canal. Learning to steer and moor-up for the locks was a challenge. 11 locks in the first 4 hours kept the whole crew busy. Ordered dinner by phone with Mike and Rosie Fenlon, who then met us at Stafford Marina, with a take-away. All enjoyed a fine Indian meal, and the wine cellar took a battering. Thank you Mike and Rosie.
Nature Notes:
Canada Geese with Goslings, Grey Lag Geese, Mallard ducks and ducklings, Swallows and Swifts, Several Herons and we heard our first Cuckoo
Mooring Time:            20.10
Location:                     Stafford Marina
First Impression:        Very Big Boat
| | | | |
| --- | --- | --- | --- |
| Ship's Log | Previous | Today | Running Total |
| Hours | - | 4.30 | 4.30 |
| Miles | - | 7 | 7 |
| Locks | - | 11 | 11 |
| | |
| --- | --- |
| <![if !vml]><![endif]> | <![if !vml]><![endif]> |
| <![if !vml]><![endif]> | <![if !vml]><![endif]> |
DAY 2
Monday 6th June, 2011
Weather:  Sunny
Cast-off Time:  07.00 hrs
Diary
Early start to get up to Milford for breakfast at 8.00 hrs. Off again at 9.10 a.m. then swing north into the Trent and Mersey Canal at 10.15 a.m.  Julie negotiated this first turn, with some difficulty, but we learned to use the poles.  Then we had a good run all morning on this slightly bigger canal (only 2 groundings!). Skipper rammed a German Cruiser when exiting Bridge 90A.  No Fatalities. Stopped to top-up water and ammunition, just south of Stone (birthplace of the canal system). Busy afternoon with numerous locks and plenty of sunshine, plus a few more groundings, but not a bad day as total groundings still in single figures!(NB: some parts of canal seemed to have more silt than water). Moored south of Hem Heath Bridge No. 106.  Dinner at Toby Inn (former Trentham Hotel), where Skipper was given beef that might have been an old donkey?  Early to bed (knackered!).
Nature Notes:
Moorhens and chicks, Electric blue Dragonflies with black wings, Green Dragonflies, Shire Horses and foals, Cows and calves  - Long Horns and Jerseys. Two men in camouflage with guns!  (hunting rabbits). Julie saw fish surfacing. Saw many attractive houses and beautiful gardens leading down to the canal Lance did a splendid job at the helm on our first full day and Julie, Gra and I jogged to and from the locks along the way! Wonderful reflections from the front of the boat, smooth, quiet and peaceful and saw many bright yellow Irises growing in the canal. Friendly people on boats and walking along the canals
Mooring Time:            17.45
Location:                     Hem Heath Bridge 106 - Trentham
First Impression:        A.O.K.
| | | | |
| --- | --- | --- | --- |
| Ship's Log | Previous | Today | Running Total |
| Hours | 4.30 | 10 | 14.30 |
| Miles | 7 | 20 | 27 |
| Locks | 11 | 13 | 24 |
| | |
| --- | --- |
| <![if !vml]><![endif]> | <![if !vml]><![endif]> |
| <![if !vml]><![endif]> | <![if !vml]><![endif]> |
DAY 3
Tuesday, 7th June, 2011        
Weather:  Rainy a.m. / Sunny p.m.
Cast-off Time:  06.45 hrs
Diary
Up with the Lark (bloody Pigeon actually!).  Sunny start, zero traffic. Great team-work through ascent of locks to Victoria Marina in Stoke. Onward in light rain, to moor just short of Harecastle Tunnel for bacon and mushroom sandwiches for Brunch at. 10.00.  We were third in queue and entered tunnel at 10.45.  An out-of-world experience, the boat oscillating from side-to-side in almost complete darkness.  Exit at 11.40, only to be confronted by an oncoming pillock who failed to give way, forcing us onto a sandbank (the canal was very shallow and sandy-looking coming out of the tunnel).  This does NOT count as grounding! Superb teamwork got us through an interminable sequence of locks, getting soaked in a squall half-way down.  More locks and several cups of tea later, we arrived at Broughton (Bridge 140) at 14.30 in glorious sunshine, but Lance panicked because he could not see the pub at 50 yards!.  Sunbathed and drank our first bottle of chilled white wine on the fore deck!  (former Trentham Hotel) Time to dry out f the clothing and mellow out.  ZERO groundings!  A very nice dinner at Broughton Pub.
Nature Notes:
A Greater Spotted (black, white and red) Woodpecker flew right across our path. Impressed with industrial area of Stoke.  Like Venice!  Many fine buildings still standing.  Amazingly, beyond Stoke, the canal traversed a ridge, and there were beautiful views looking down into the valleys towards the river Trent. Arriving north of Alsager, early at 2.30 p.m. we saw a magnificent swan coming in to land.  Also a family of swans, including 6 cygnets, and ducks with 6 ducklings.  Fed them bread – they loved it. Julie and Lance walked down to the river and saw a family of long-tailed Tits.
Mooring Time:            14.30
Location:                     Broughton Inn, at Thirlwood
First Impression:        Gorgeous – but Lance couldn't see the Pub!
| | | | |
| --- | --- | --- | --- |
| Ship's Log | Previous | Today | Running Total |
| Hours | 14.30 | 7 | 21.30 |
| Miles | 27 | 13 | 40 |
| Locks | 24 | 17 | 41 |
| | |
| --- | --- |
| <![if !vml]><![endif]> | <![if !vml]><![endif]> |
| <![if !vml]><![endif]> | <![if !vml]><![endif]> |
DAY 4
Wednesday 8th June, 2011
Weather:  Very mixed - sun, rain, thunder, hail and wind
Cast-off Time:  06.45 hrs
Diary
Up and away before the traffic.  6 locks by 08.15 – moored up for breakfast after M.6.  Another 8 locks down to the Cheshire Cat at Wheelock, with problems of generally low water levels in the pounds (low rainfall). Skipper walked straight past service point in pouring rain.  Moor up at services for water top-up and tea break (10.50-11.30 a.m.) Lovely run across rural Cheshire. Some sharp showers, necessitating frequent changes of kit.  Southerly gusts of wind across the Cheshire plane forced us to learn to tack! Pulled up just short of Kings Lock, Middlewich, in a thunder storm.  Graham, Lance and Julie got very wet, whilst mooring for lunch at 14.00. Brilliant helmsmanship by Lance, with Julie directing, to negotiate a sharp left-hand turn, leaving the Trent and Mersey Canal through the 100 yards long Wardle Canal, and entering a branch of Shropshire Union. Cross-winds nasty for most of the day.  Moored for night twixt Bridges 22 and 21, above River Weaver – lovely spot.  Julie cooked a lovely pasta meal, whilst lance ate most of the pesto.
Nature Notes:
Walking between locks, Sandra saw 2 brown and 1 black rabbits. Many swallows swooping and, at Kings Lock, they were nesting under the bridge. At Middlewich, going through Wardle Canal to the Shropshire Union, saw many lovely gardens on canal side. Again, beautiful wild flowers and irises, green trees, woodlands and hedges along the canal.
Mooring Time:            16.30
Location:                     Wimboldsley Wood
First Impression:        Superb
| | | | |
| --- | --- | --- | --- |
| Ship's Log | Previous | Today | Running Total |
| Hours | 21.30 | 7.45 | 29.15 |
| Miles | 40 | 12 | 52 |
| Locks | 41 | 21 | 62 |
| | |
| --- | --- |
| <![if !vml]><![endif]> | <![if !vml]><![endif]> |
| <![if !vml]><![endif]> | <![if !vml]><![endif]> |
DAY 5
Thursday, 9th June, 2011
Weather:  Bright, Sunny Spells, Dry
Cast-off Time:  07.20
Diary
Mutiny averted by giving crew a half-hour lie-in! Beautiful run through rich farm land.  Lots of wild bird life. Only 2 locks, then hang a left at Barbridge Junction into Shroppie proper, at 10.15. Again, superb turn by Helmsman Lance assisted by Julie, poling several times!  Then 15 minutes wait in queue for water top-up.  Moor, just south of junction for brunch at 11.00. Jules sprayed Lance with surplus water, whilst reeling in hose (perhaps to save on shower water later?). Lovely afternoon cruising across Cheshire, lots of wildlife.  Very busy canal traffic through Nantwich, then became quieter.  Arrived in Audlem at 15.30.  Moored in lovely spot between Locks 14 and 13.  Lovely afternoon, had a walk around village – superb Church.  Booked evening meal at The Lord Combermere Pub. In bed by 10.15 p.m., again!
Nature Notes:
Beautiful morning.  Julie saw a Kingfisher – Sandra just missed it! Flocks of Goldfinch and Great Tits in and out of hedgerows. Rabbits, Buzzards,  Swallows, Chiff-chaffs, Skylarks, Cuckoo. Kestral, Rabbits. Blue and Black winged Dragonflies, again.  Sandra tried to photograph a Heron, but he wouldn't pose! NO RAIN TODAY.
Mooring Time:            15.30
Location:                     Audlem
First Impression:        Lovely little town
| | | | |
| --- | --- | --- | --- |
| Ship's Log | Previous | Today | Running Total |
| Hours | 29.15 | 7 | 36.15 |
| Miles | 52 | 17 | 69 |
| Locks | 62 | 6 | 68 |
| | |
| --- | --- |
| <![if !vml]><![endif]> | <![if !vml]><![endif]> |
| <![if !vml]><![endif]> | <![if !vml]><![endif]> |
DAY 6
Friday, 10th June, 2011
Weather:  Great Morning. Very wet late afternoon
Cast-off Time:  06.45 hrs
Diary
Up early to climb up through Audlem Locks before the traffic.  Achieved 13 locks to the top in just under 2 hours – great team effort again.  Moored up for a well-earned breakfast on Shropshire County Boundary at 09.00 hrs.  Due to highly efficient chef who had bacon cooked before we stopped, we were underway in 20 minutes.  Glorious cruise through Shropshire countryside.  Light traffic through Adderley Locks, including an 86 year old gent who was cruising alone!  Short stop at Market Drayton for water services and hit traffic at Tyrley Locks (set of 5) but still thro' in just over the hour.  Amazing run through Woodseaves cutting, moored for lunch snack at Goldstone Bridge 56 at 14.10 hrs.  Then it rained a bit – then a lot!  Julie and Lance waterproofed up and led us bravely onwards!  Slow crawl through Shebdon Wharf and onto Norbury Junction, past miles of moored boats.  Rev Counter cut out.  We reported it, they suggested we switched the engine off and then on again.  Later, we did so after we'd stopped.  It worked!  We had a good meal at the Junction Inn.
Nature Notes:
Early morning Buzzard flew over the boat. Swallows drinking and bathing on the wing in the canal in front of us.  Mistle Thrush perched on a post nearby.  Baby Moorhens out for early morning stroll on the bank.  Hare seen.  Buzzards and Kestrel. At Adderley Wharf Bridge, fresh produce, including great cakes, available on canal side - 7 days a week, and/or at the Farm.  Wind dropped this morning, lovely reflections again.  Wagtails, Jay on water's edge.  Saw black and white cows being chased over the bridge by herdsman on motorbike.  Very calm and peaceful through Woodseaves cutting, almost a single "track", Glad no one came towards us.  Many different ferns, flowers and trees – looked tropical. Herons on canal side.  Bullfinches at Norbury Junction.
Mooring Time:            17.30 hrs
Location:                     Norbury Junction
First Impression:        Wet
| | | | |
| --- | --- | --- | --- |
| Ship's Log | Previous | Today | Running Total |
| Hours | 36.15 | 9.15 | 45.30 |
| Miles | 69 | 14.5 | 83.5 |
| Locks | 68 | 23 | 91 |
| | |
| --- | --- |
| <![if !vml]><![endif]> | <![if !vml]><![endif]> |
| <![if !vml]><![endif]> | <![if !vml]><![endif]> |
DAY 7
Saturday, 11th June, 2011
Weather:  Glorious morning, shower at lunch, lovely p.m.
Cast-off Time:  06.45 hrs
Diary
Topped up water before leaving Norbury at 07.10 hrs.  Fabulous trip thro' Gnosall – moored for breakfast at Bridge 31, 08.20 hrs.  Depart at 09.00 hrs. Glorious morning, half of crew abandoned ship to walk towpath – but at full throttle, Graham at the helm, Sandra navigating?, we caught them up! Thro' Wheaton Aston Lock at 10.45 – had to queue.  Lovely thro' Brewood and over Watling Street  Aquaduct.  Moored for lunch at Pendeford Bridge (only 2 miles from home).  John Ward met us with essential supplies (bread and milk) and a quick lunch.  Queue at Autherley Junction for our one and only "stop-lock". There was some difficulty in negotiating the acute 70 degree junction – almost lost a couple of crew, Julie did a wonderful job poling in the deep water.  Fascinating run through our old home territory of Pendeford/Fordhouses – all looks so different from the canal.  Calf Heath Marina was heaving and Restaurant closed for a private function.  So we moored just north of Marina for our last night.  Jules cooked a delicious Pasta Penne dish.
Nature Notes:
Lots of Herons today.  Chaffinches.  Heard Cuckoo again.  Saw Greater Spotted Woodpecker and Chiff-chaff.  Also a Jay, Buzzards and Kestrel.  Long-tailed Tits, Great Tit.  SAW Chiff-chaff. Lovely scenery, calm waters, very relaxing when on the forward deck.  The Helmsman or woman, however, always had to concentrate all the time to keep the boat on an even keel.  Much appreciated by those who were not driving! Beautiful morning, but cool out of sun.  Cooler and cloudy in afternoon but no rain.  Sun came out at 5.00 p.m. and we had a lovely sunny evening for our last meal on board.
Mooring Time:            17.10 hrs
Location:                     Just outside Calf Heath Marina
First Impression:        Busy
| | | | |
| --- | --- | --- | --- |
| Ship's Log | Previous | Today | Running Total |
| Hours | 45.30 | 8.30 | 54 |
| Miles | 83.5 | 24 | 107.5 |
| Locks | 91 | 3 | 94 |
| | |
| --- | --- |
| <![if !vml]><![endif]> | <![if !vml]><![endif]> |
<![if !vml]>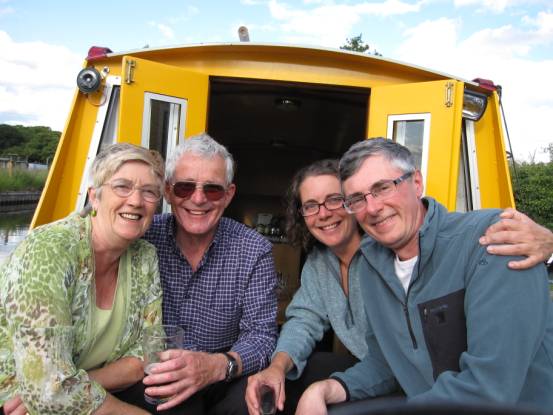 <![endif]>
DAY 8
Sunday, 12th June, 2011       
Weather:  Cold but clear
Cast-off Time:  07.25
Diary
Cold enough for brass monkeys when Lance and Graham got up at 06.30 – had to put the bloody central heating on for the girls!  Sandra and Julie up at 07.00 for quick coffee and cereals, followed by a rapid final pack up. More early morning canal traffic than we had seen all the week.  Arrived at Gailey Wharf well ahead of schedule (8.00 a.m. instead of 9.00). Lance treated us to a demonstration of long-boat steering, by turning our 68 ft boat into the Viking Boats herring-bone Wharf.  Started to rain as we unpacked the boat and loaded the car – typical!
A SUPERB HOLIDAY – CHALLENGING BUT VERY SATISFYING AND ENJOYABLE.  THANKS TO LANCE FOR ALL THE ORGANISING.  HOPE WE DO IT AGAIN SOMETIME.
Nature Notes:
Cold this morning but still heard Chiff-chaffs at dawn (well some of us did). Banks of beautiful honeysuckle and wild roses climbing the trees along the canal, hiding the chemical works as we passed by.  Also saw chaffinches and heard many birds with unrecognisable calls.
IT HAS BEEN A WONDERFUL TRIP, calm, peaceful, exciting, exhausting (all those locks), friendly people, many houseboats with gardens attached, people making and selling canal decorated pots and pans and canal art, many attractive houses with beautiful gardens alongside the canal, many, many narrowboats  -  a different world, even Stoke didn't feel like a city.  JUST BEAUTIFUL GREEN COUNTRYSIDE FOR MILES AND MILES.  A WONDERFUL EXPERIENCE.
Mooring Time:            08.10 hrs
Location:                     Gailey Wharf
First Impression:        MADE IT!
| | | | |
| --- | --- | --- | --- |
| Ship's Log | Previous | Today | Running Total |
| Hours | 54 | 0.45 | 54.45 |
| Miles | 107.5 | 1.5 | 109 |
| Locks | 94 | - | 94 |