Welcome fellow Farts to The Goldcrest Walk!
<![if !vml]>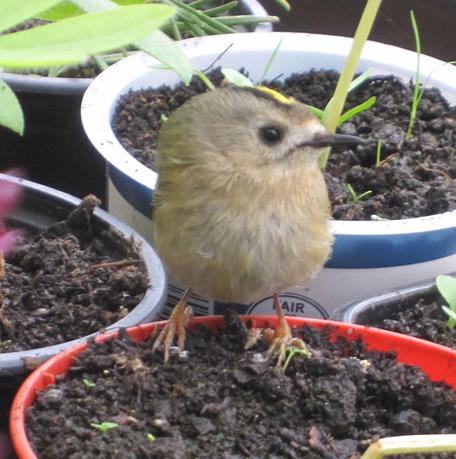 <![endif]>
<![if !vml]>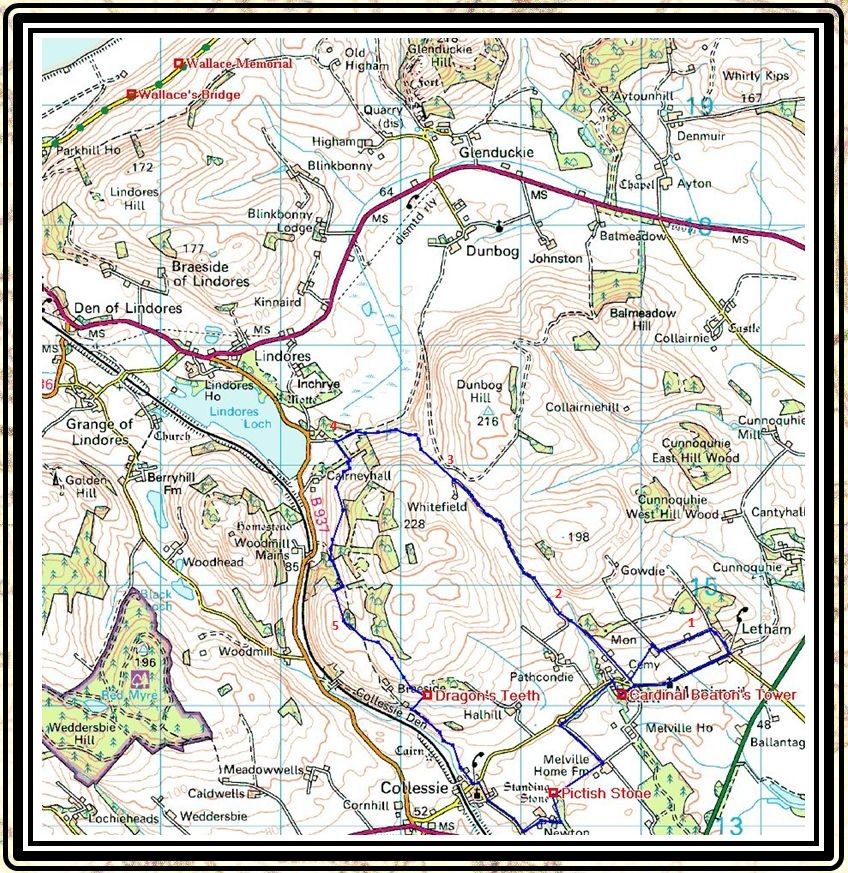 <![endif]>
Monimail, Collessie and Letham
(For convenience, Click Map to open in separate Window)
| | |
| --- | --- |
| <![if !vml]><![endif]> | So, here we are about to set off on our walk. A leisurely 8-miles with 800ft of ascent. We are enjoying a fabulous spring, and today we have mixed sun and clouds, and very mild temperatures. |
| | |
| --- | --- |
| <![if !vml]><![endif]> | On our drive we have this magnificent flowering cherry |
| | |
| --- | --- |
| <![if !vml]><![endif]> | Down the drive we share with Molly and Don, our route is to the left and further uphill. Within 100ft or so we leave tarmac. |
| | |
| --- | --- |
| <![if !vml]><![endif]> | Tarmac becomes unleaded tracks about 50ft ahead of Julie, at which point we turn left and head towards the west. |
<![if !vml]>

<![endif]>
(Point-1) Looking southeast towards Letham. The village occupies high ground well above the 'bog' one-quarter mile away and 130ft lower.
60-years ago the pond, centre-right in the photo, was drained. 10-years ago the ponds were allowed to return: a return to pondness is most welcome!
<![if !vml]>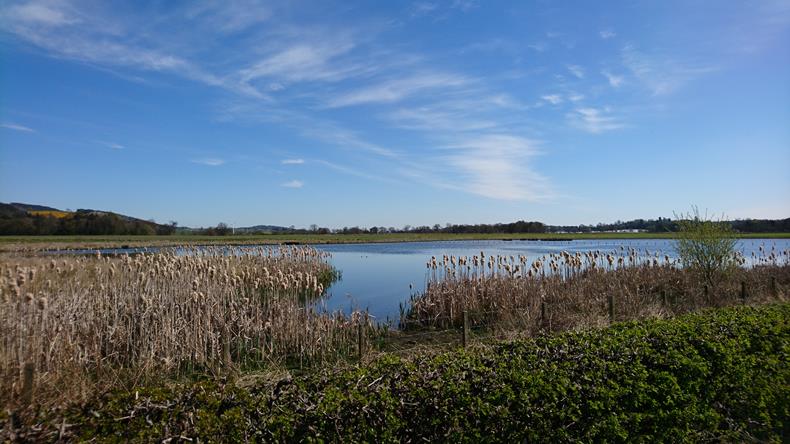 <![endif]>
Not strictly on our walk, but this is Letham's east-pond - the water that can just be seen in the earlier photo.
Popular with twitchers, Letham's two ponds support large numbers of birds: swan, lapwing, curlew, moorhen and many others.
<![if !vml]>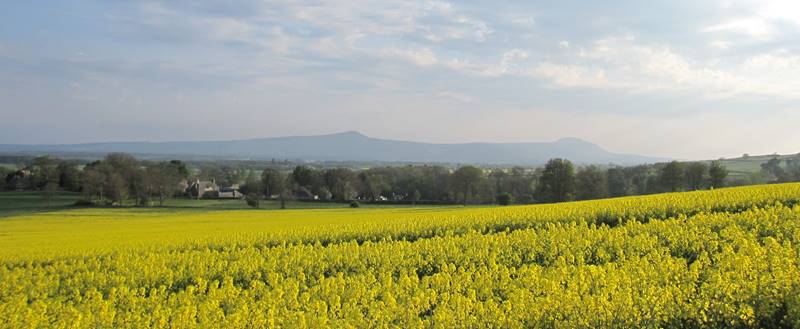 <![endif]>
(Point-1) The Lomond Hills: a backdrop for the Howe of Fife which, in prehistory, was a large glacial lake covering most of central Fife.
The last vestige of the post-glacial lake was drained between 1740 and 1806: Rossie Loch was ~1/3 the size of Loch Leven, and would have been visible from this vantage point.
| | |
| --- | --- |
| <![if !vml]><![endif]> | (Between 1-2) At Monimail we join an ancient track and head north-west. Navigation through a wet landscape was never easy, and the routes found by early settlers have remained in use until the present day. This track, from Monimail to Dunbog, is the route taken by William Wallace in 1298 when he led a force to repulse an invading army on the River Tay. |
| | |
| --- | --- |
| <![if !vml]><![endif]> | (Point-2) We quickly enter a rural idyll. |
<![if !vml]>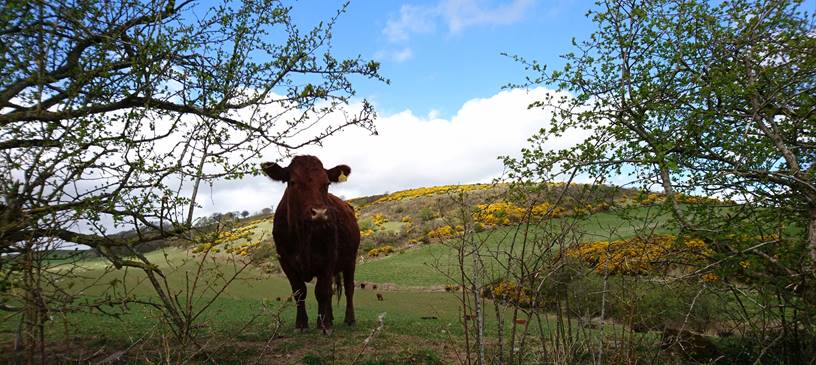 <![endif]>
We pass local friendly faces.
<![if !vml]><![endif]>

Unfortunately you can't smell the rich aroma of coconut emanating from this gorse bush, but believe me it was hard to leave it!

Immediately after this photo a deer shot across the track between two stands of trees. Roe deer are common hereabouts, but they are very shy and rarely do you see more than a bobbing white rump heading off into the trees.
<![if !vml]>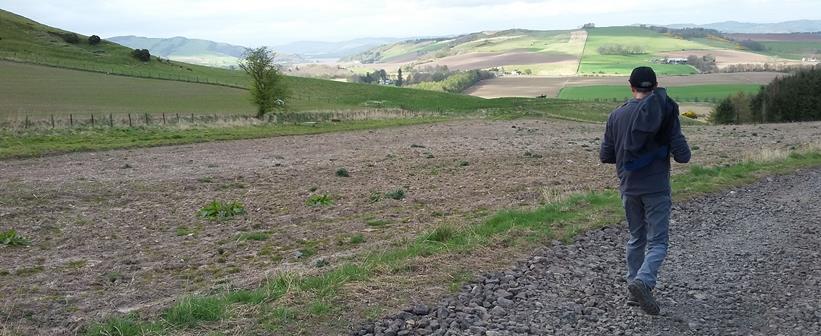 <![endif]>
Julie did finally manage to prise me away from my olfactory joy and back to visual experience.
<![if !vml]><![endif]>

(Point-3) Dilliecary Knowe: the ancient track continues north, but our route is to turn left and head more to the west. Wallace and his army continued on to Dunbog and then, keeping his feet dry, via Higham and engagement with the army of The Earl of Pembroke.

However, some 3-years after Wallace's march, this was the location of an ambush: Scots led by the 'Battling Bishop' (more on him later) trounced the English forces.
| | |
| --- | --- |
| <![if !vml]><![endif]> | There are still references to William Wallace in northern Fife. As well as this commemorative plaque there are map references to Wallace's bridge, Wallace's camp, as well as the battle site itself. The Battle of Black Earnside, only 9-months after the major victory at Stirling Bridge, was the last successful engagement led by Wallace. One month later, in July 1298, Wallace was defeated at the Battle of Falkirk. |
<![if !vml]>

<![endif]>
(Between 3-4) In the foreground there used to be a loch, a sister to Lindores Loch, drained centuries ago by the monks of Lindores Abbey.
Lindores Loch can just be seen on the far left of this photo.
<![if !vml]>

<![endif]>
Most of what used to be loch is still used to grow crops, but there is a large area of marshland that is just too wet. This remote area is a good place to spot raptors.
Wallace and his army marched behind the stand of trees on the right, past the two wind-turbines, and then over the high ground of Higham in the centre of this photo.
What would William Wallace have made of wind-turbines??
| | | |
| --- | --- | --- |
| <![if !vml]><![endif]> | <![if !vml]><![endif]> | <![if !vml]><![endif]> |
Primarily sheep farming in the rolling hillside
<![if !vml]>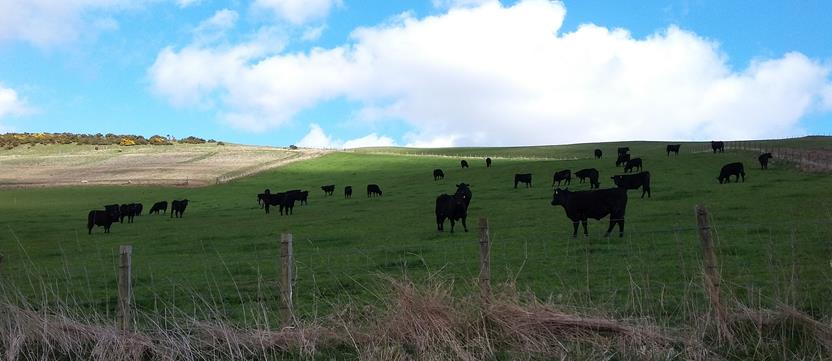 <![endif]>
But Aberdeen Angus can also to be found.
| | |
| --- | --- |
| <![if !vml]><![endif]> | (Point-4) After half-a-mile we again turn left and start to climb though a small wood. The trees here were full of songbirds. We saw a small flock of bullfinch harvesting the new buds on the trees. |
<![if !vml]>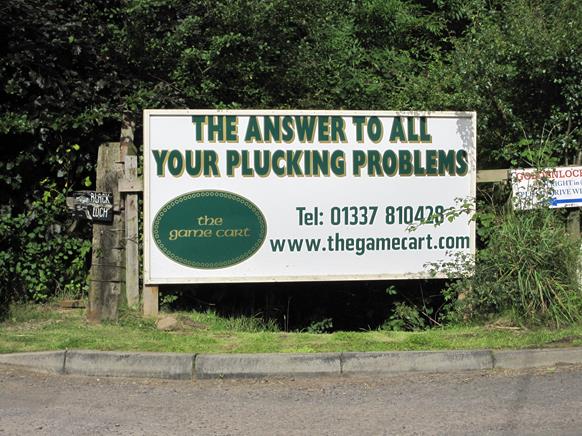 <![endif]>
Were you not to turn left, in the earlier photo, but rather continue downhill, you would experience a little local humour
| | |
| --- | --- |
| <![if !vml]><![endif]> | (Between 4-5) Our route leaves unleaded tracks and climbs gradually over open fell side. |
<![if !vml]>

<![endif]>
Lindores Loch: only 2m deep on average, and at its deepest only 4m.
The loch is used for fishing and, when possible, curling.
<![if !vml]>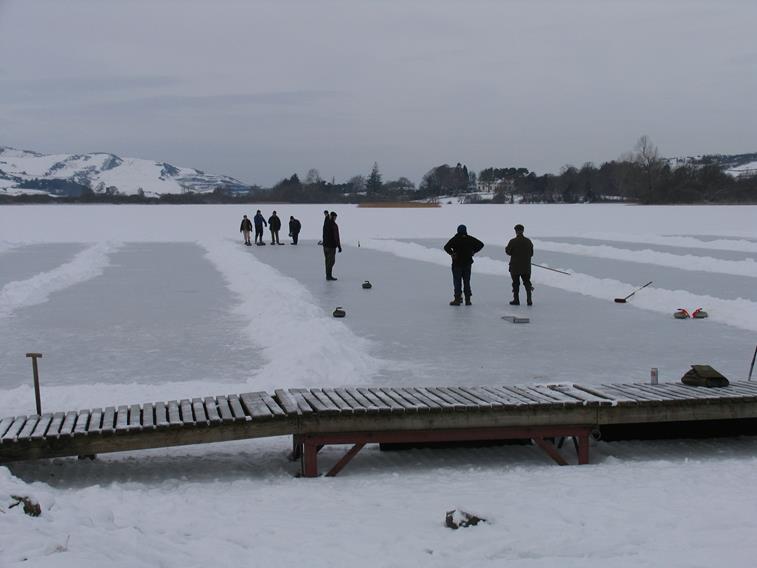 <![endif]>
Boxing Day 2010: the last occasion Lindores ice allowed curling.
| | |
| --- | --- |
| <![if !vml]><![endif]> | An exposed, presumably rather old, well on the hillside. Neither Julie nor I remember this being exposed last time we did the walk, and given the fresh-looking timber barricade may well have been a recent archaeological dig?? |
<![if !vml]>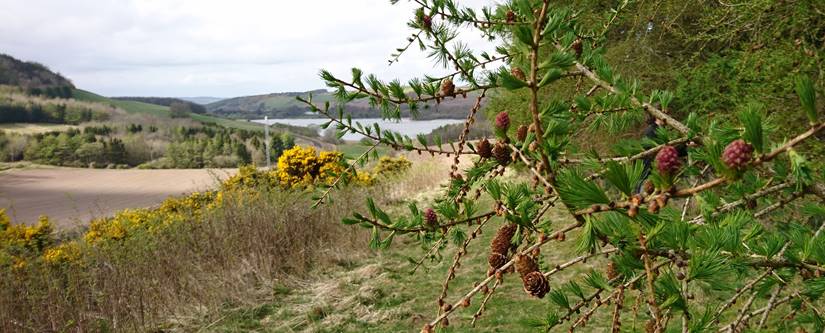 <![endif]>
Looking north but heading south from Lindores Loch we start to climb to our highest point of the walk.
<![if !vml]>
<![endif]>
The remains of one roe deer that lost the fight: not much remains of these remains!
On the horizon to the right in this photo is Pitmedden Forest: a few years ago it was a 'secret location in Fife' where White-Tail Eagles were reintroduced to east Scotland.
<![if !vml]><![endif]>

August 2011.

Luckily for us the release site was on one of our regular mountain-biking routes. Binocular views were good, but getting decent photos with normal cameras was a challenge. This is the best photo we managed: this is a still a youngster, but one possessing an 8ft wingspan!
<![if !vml]>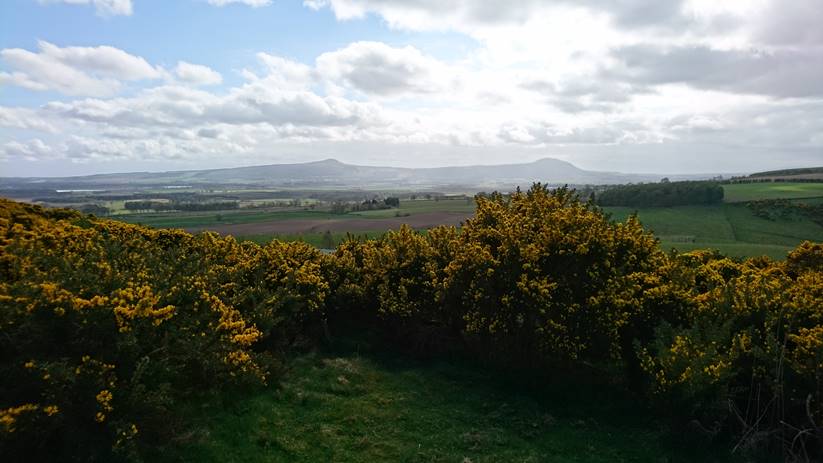 <![endif]>
(Point-5) The highest point of our walk (Halhill), which we attained without oxygen bottles<![if !vml]>
<![endif]>
<![if !vml]>

<![endif]>
We descend Halhill to the south on route to the Den of Collessie.
<![if !vml]>

<![endif]>
Before entering the den, we take a saunter off-track to see a little bit of history.
<![if !vml]>

<![endif]>
The Dragon's Teeth.
<![if !vml]><![endif]>

Part of The Scottish Command Line, a defensive system built during WW2. It was part of a huge defensive boundary that cut through Fife north-south.

Click Morph, he knows more!
| | |
| --- | --- |
| <![if !vml]><![endif]> | The Den of Collessie. A den is a valley that has been cut by glaciation rather than water. Often dens have no standing water at all, but Collessie has a small loch. The wildlife is fabulous in this den: birds and insects abound. |
<![if !vml]>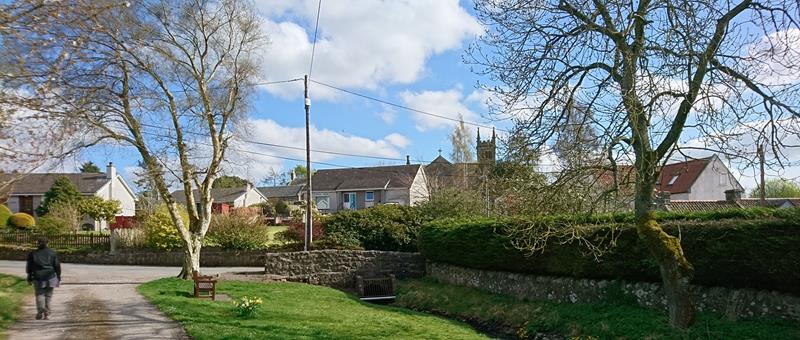 <![endif]>
We arrive at the village of Collessie: a favourite stopover for James V when on hunting parties.
Historic occupation of Collessie goes back to the Bronze Age.
<![if !vml]>

<![endif]>
Leaving Collessie village on route to another piece of history
<![if !vml]>

<![endif]>
We pass through Collessie and on to one of the earliest manmade objects in the area.
| | |
| --- | --- |
| <![if !vml]><![endif]> | <![if !vml]><![endif]> |
Collessie has traces of occupation from as early as the Bronze Age.
This Pictish stone was unearthed in 1925, and believed to have been moved to its present position by farmers.
Geophysical information of the adjacent field reveals Bronze Age farming activity.
<![if !vml]>

<![endif]>
Water is never far beneath your feet: Howe of Fife's ancient glacial lake is just below the surface
<![if !vml]><![endif]>

The estate of Melville House is much run-down. Completed in 1703, Melville House in its heyday was referred to as the most important Renaissance building in Scotland after Holyrood.

During WW2 the house and grounds were commandeered to both train a guerrilla army and act as local command and control.

Since 1950 the house has been, variously, a private school, a council borstal and is currently a private house.
| | |
| --- | --- |
| <![if !vml]><![endif]> | As we make our way out of the estate grounds we pass more relics of WW2. These are the last remaining 'teeth' in the Melville estate. And on the horizon towards the left of the photo, a stand of trees is the location of the Dragon's Teeth. |
| | |
| --- | --- |
| <![if !vml]><![endif]> | <![if !vml]><![endif]> |
Whinny Park Now and Then: 2020 and 1917, on the Collessie to Letham road.
Whinny Park, location of a most heinous murder, one of only two (detected) murders in Monimail and Letham: at 10am on 26 June 1830 a John Henderson, of no fixed abode, brutally murdered James Millie, owner of Whinny Park, who had taken pity on the plight of Henderson only days earlier. After some time the absence of Millie was noticed by the residents of Monimail and Letham, as was the free and easy spending by Henderson. Henderson had tried to bury the body of Millie, but quickly came to the same problem experienced by the builders of the Collessie to Letham road; there is a very large plug of whinstone topped with shallow soil. The road builders navigated the road around it, and the stone made excellent foundations for a cottage and the cottage's name was then obvious! Henderson was publicly executed in Cupar at 2pm 30 September 1830.
And the other murder, you ask? Well that was much more recent: 3 November 1994. George Tolmie killed Danny Hallet in a dispute over money
<![if !vml]>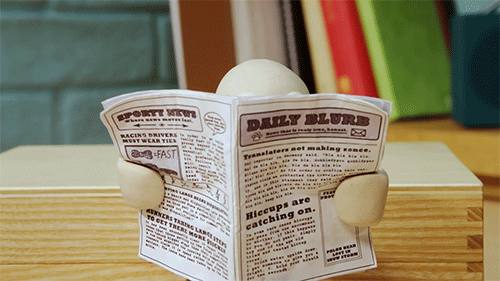 <![endif]>
Click Morph, he knows!
| | |
| --- | --- |
| <![if !vml]><![endif]> | Small woodland to the north-west of Melville House used to provide the estate boundary. In recent times a charity, the Monimail Tower Project supports a small 'alternative' community. The woodland and tower are maintained by the community. |
<![if !vml]><![endif]>

From a time 400-years before Melville House, this land was owned by the See of St Andrews, and from around 1300 a palace was for several centuries home of the Bishops. The first resident was Bishop William Lamberton, the 'Battling Bishop', who regularly wore armour under his cassock.

Cardinal David Beaton, Archbishop of St Andrews, lived here in the 16th Century. His 'claim to fame' is that he ordered George Wishart, a protestant, burned at the stake for heresy. Two months later Beaton was murdered and his mutilated body hung near the site where Wishart was executed.
<![if !vml]><![endif]>

Of the palace only the tower remains and this was restored in 1987.

<![if !vml]><![endif]>
| | |
| --- | --- |
| <![if !vml]><![endif]> | <![if !vml]><![endif]> |
| <![if !vml]><![endif]> | <![if !vml]><![endif]> |
We ascend the very narrow staircase in the tower
| | |
| --- | --- |
| <![if !vml]><![endif]> | <![if !vml]><![endif]> |
The tower has two furnished rooms: on the left is a meditation room and the right is the library and museum of the tower
<![if !vml]>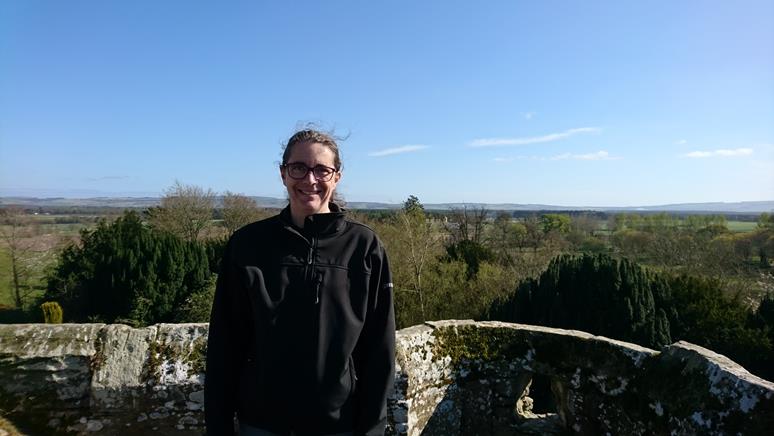 <![endif]>
Good views of the Howe of Fife are to be had from the top
<![if !vml]>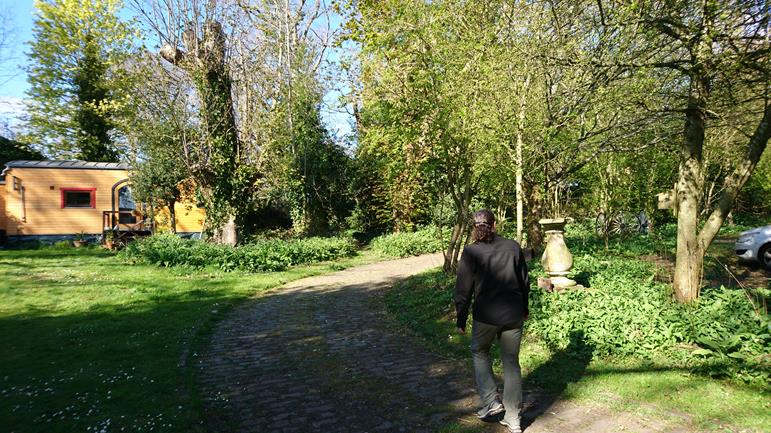 <![endif]>
We continue through the community grounds
<![if !vml]>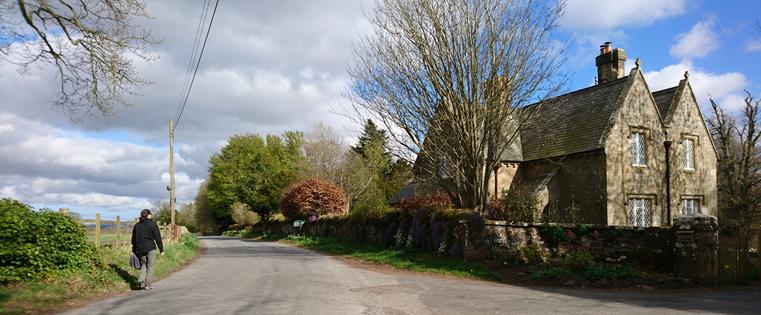 <![endif]>
We exit the community at Melville House North Lodge and head towards Letham
<![if !vml]>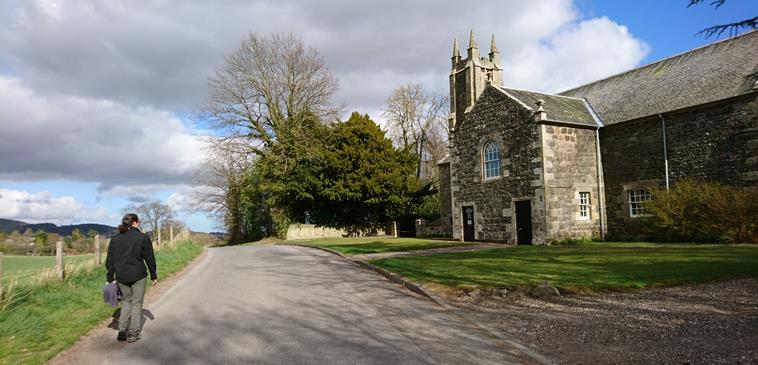 <![endif]>
Heading east we pass Monimail parish church
<![if !vml]>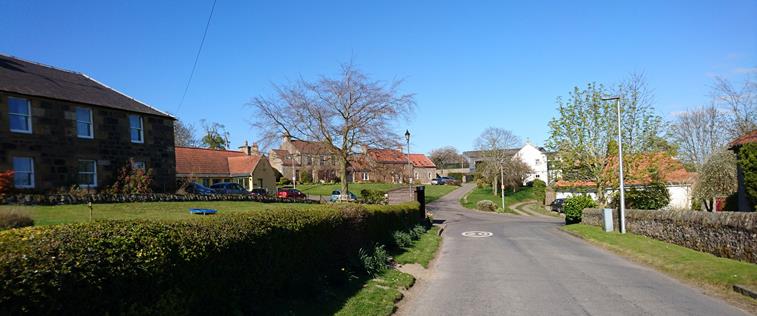 <![endif]>
Finally we enter Letham Village at the Well Tree: location of the village well.
| | |
| --- | --- |
| <![if !vml]><![endif]> | As with almost all communities throughout the UK, Letham had men fight in the Great War. One such soldier, on leave during the war, hammered a .303 shell onto the railings at The Well Tree. |
| | |
| --- | --- |
| <![if !vml]><![endif]> | <![if !vml]><![endif]> |
The New Row Now and Then: 2020 and 1918 from approximately the same location
The New Row replaced the old Row in 1800. Even after 200+ years the cottages are still referred to as 'New'!
<![if !vml]>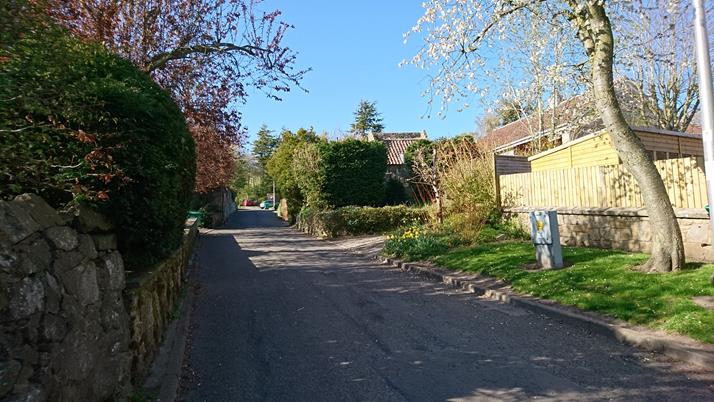 <![endif]>
Up School Brae and past another little bit of history:
| | |
| --- | --- |
| <![if !vml]><![endif]> | Letham has three doocots (dovecotes) dating back many hundreds of years. All three are listed structures. This is Letham doocot almost directly opposite our cottage, it was restored several years ago, and is the most complete of the three structures. |
<![if !vml]><![endif]>

And finally home!

We hope you have enjoyed our Lock-Down walk. And we hope that we'll all soon be able to do these things again for real.

Keep well, and hope to see you soon!

Julie and Lance
We are much indebted to Donald Dallas, a long-time resident and historian of Letham village. He has written several books, most recently "Letham: The History" and has recorded a series of lectures available on YouTube, see below. The one-hour and ten-minute lecture was recorded at Letham Village Hall, with most of the village in attendance. On YouTube the lecture is presented as four 17-minutes long episodes, we don't know why??
First Part
Second Part
Third Part
Fourth Part